Bryan Fischer
College Football Writer
As much as the country is counting down the days until the turkey goes into the oven for Thanksgiving, college football fans far and wide are watching the clock tick away until something far more important: The Game.
This year's edition of the contest on "Big Noon Saturday" might be among the most unique in the illustrious history of the defining Midwest rivalry, featuring an ongoing scandal to sort out for the home side in Ann Arbor, head coach Jim Harbaugh hanging out at home this weekend and a nervous set of Buckeyes arriving at the Big House hoping to end a rare losing streak.
HOW TO WATCH 'BIG NOON KICKOFF' THIS SATURDAY
10 a.m.-Noon ET: "Big Noon Kickoff" pregame show on FOX
Noon ET: Ohio State at Michigan on FOX and the FOX Sports app
Yet this contest is not just about who wins and who loses between No. 2 Ohio State and No. 3 Michigan. At stake is something even more tangible than another year's worth of bragging rights with a pathway toward a Big Ten title — and perhaps a national championship — in the balance.
As a result, here's a look at how Saturday's big clash could impact the postseason picture, and why reverberations from what transpires at Michigan Stadium will have a ripple effect far beyond the Big Ten with just one more week left in the regular season.
SCENARIO: THE BIG TEN GETS TWO TEAMS IN AGAIN
What needs to happen in The Game: Much like what happened in last year's College Football Playoff, in which the Buckeyes backed into a berth despite losing their last regular season game, a close loss by Ohio State this year will still keep alive Big Ten hopes of putting two teams in the semifinals. It will be far more difficult to accomplish given how many one- or zero-loss teams are around in 2023 compared to 2022, but the committee has given great respect to OSU's résumé so far and that could come in handy when sorting out the rankings this season.
What else must happen: Georgia beats Alabama in the SEC Championship Game, Florida State loses to either Florida or Louisville, Washington wins out and Texas is upset by either Texas Tech or in the Big 12 Championship Game.
Is Ohio State at its strongest before trip to Ann Arbor?
Projected CFP: 1. Georgia, 2. Michigan, 3. Washington, 4. Ohio State
In this scenario, there are three undefeated Power 5 champions — Georgia, Michigan and Washington — who would naturally be in the four-team Playoff. Alabama, Texas and Oregon would have two losses — all but eliminating them from contention.
As a result, the committee would have to decide between Ohio State, a potential one-loss ACC champion Louisville (if they beat FSU) or the one-loss Seminoles, who wouldn't have starting quarterback Jordan Travis after he was lost for the season with an injury.
The Buckeyes would own the "best" loss of the group — on the road to the No. 3 Wolverines, potentially by just one score. They'd also have two top-20 wins over Penn State and Notre Dame plus victories over as many as seven teams that made a bowl game.
The Cardinals, meanwhile, would have just the top-20 win over Notre Dame (which they share with Ohio State) plus a potential one over the short-handed 'Noles. They would have the distinction of being a conference champion, but that hasn't mattered all too much in the CFP era to the committee.
Should Florida State lose to Florida but still beat the Cards in Charlotte, they may have just one or two (counting the season-opener against LSU) top-25 wins and would still have to battle the perception that they're just fine without Travis in the starting lineup. Their lone potential loss being to a Gators side that is just .500, while only having one win over a team that won more than eight games in the regular season, would not be close to the Buckeyes' résumé.
Hence, the committee would likely give Ryan Day's team the nod and setup another rematch with Georgia in a CFP Semifinal.
Should Michigan fans be concerned?
SCENARIO: THE SEC GETS TWO TEAMS IN
What needs to happen in The Game: Ohio State beats Michigan, potentially by double-digits. That allows the Buckeyes to roll into Indianapolis and re-capture the Big Ten title with a victory over Iowa.
What else must happen: Alabama beats Georgia in Atlanta, Louisville wins the SEC, Texas falters in the Big 12 but still looks good, and Washington wins out. 
Projected CFP: 1. Ohio State, 2. Washington, 3. Alabama, 4. Georgia
Honestly, this might be a fairly clean-cut and uncontroversial way for the Committee to pick the four teams despite a hefty number of contenders going into the final few weeks of the season. Playing this out, there would be two undefeated Power 5 champs in the Huskies and Buckeyes, while the Crimson Tide would certainly occupy that third spot as SEC champs.
That would mean the fourth and final team would be either the reigning back-to-back champs Georgia, a one-loss Louisville, or a one-loss Michigan side. The Bulldogs have been ahead of the Wolverines in the eyes of the committee and would have top-25 wins over Missouri, Ole Miss and possibly Tennessee. More than that, they've been dominant all season long and would be similar to the 2021 squad which lost in Atlanta but still wound up making the Playoff and winning it all.
Meanwhile, the Cardinals would have the worst loss among the trio and nowhere near the caliber of wins that the Bulldogs have on their résumé. Michigan may have passed the eye test and have extenuating circumstances of Jim Harbaugh not being on the sidelines for The Game, but their weak schedule is likely the difference in getting passed over by a fellow one-loss non-champion after really only beating Penn State on the road by nine.
Georgia is RJ Young's new No. 1!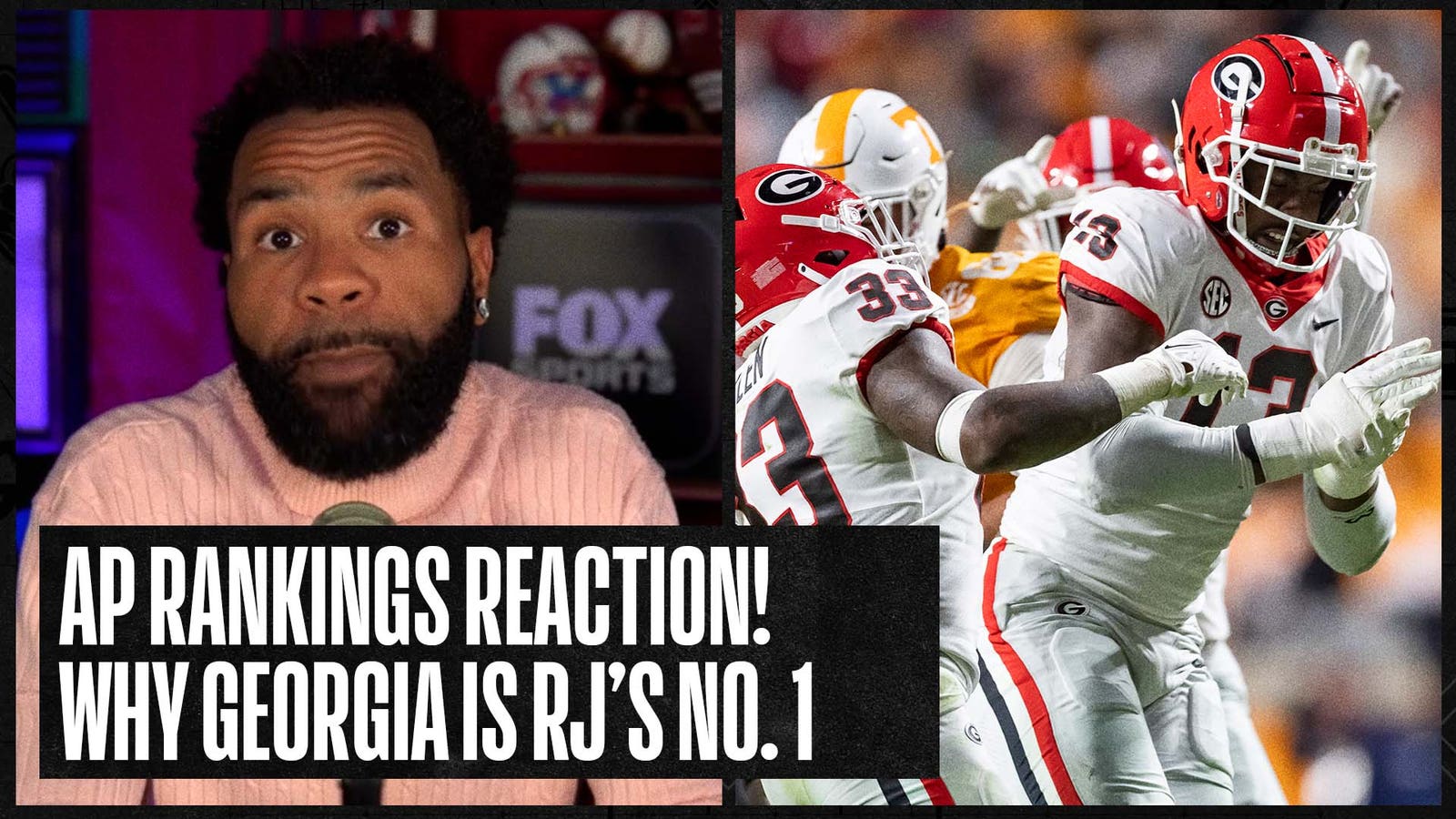 SCENARIO: THE PAC-12 GETS TWO TEAMS IN
What needs to happen in The Game: Ohio State needs to convincingly beat Michigan, the bigger the gap on the scoreboard, the better.
What else must happen: Oregon upsets Washington by one score in Las Vegas, Georgia takes care of Alabama, Louisville or Florida wind up beating Florida State, and Texas loses at least once in the next two weeks.
Projected CFP: 1. Georgia, 2. Ohio State, 3. Oregon, 4. Washington
What a fitting way this would be for the Pac-12 to end this chapter in the league's history, with its final season ending a long playoff drought by placing not just one but two teams in the final four.
If this were to play out over the next two weekends, you'd have a clear top two in undefeated SEC and Big Ten champions Georgia and Ohio State. Then you'd have one-loss (but Pac-12 champion) Oregon, one-loss Washington, one-loss Michigan and one-loss Louisville duking it out for two openings. Alabama and Texas would each have two losses and could probably be eliminated, as could a non-champion Florida State side without its starting quarterback.
The Ducks would probably be in by virtue of winning the toughest conference and avenging their only blemish of the season. That would put the spotlight on the Huskies, which would have a win over the team that just beat them, plus an additional top-25 victory over Oregon State. There's also the potential for two wins over conference champions if Boise State were to somehow win the Mountain West, too.
While Michigan would technically have the "better" loss to a higher-ranked Ohio State team, Washington gets the edge in terms of consistent play, most offensive metrics, total strength of schedule, and amount of top-25 wins. Even the Cardinals would own more victories over ranked teams than the Wolverines, and you can't discount some sort of inherent bias against the maize and blue given all of the press from the sign-stealing saga. The committee is a group of people, and they may decide that in addition to Washington having the edge on résumé and on the field, it's simply less controversial to give the Huskies the nod for the fourth spot over the Harbaugh-less Wolverines.
Texas and Washington both earn big road wins in playoff push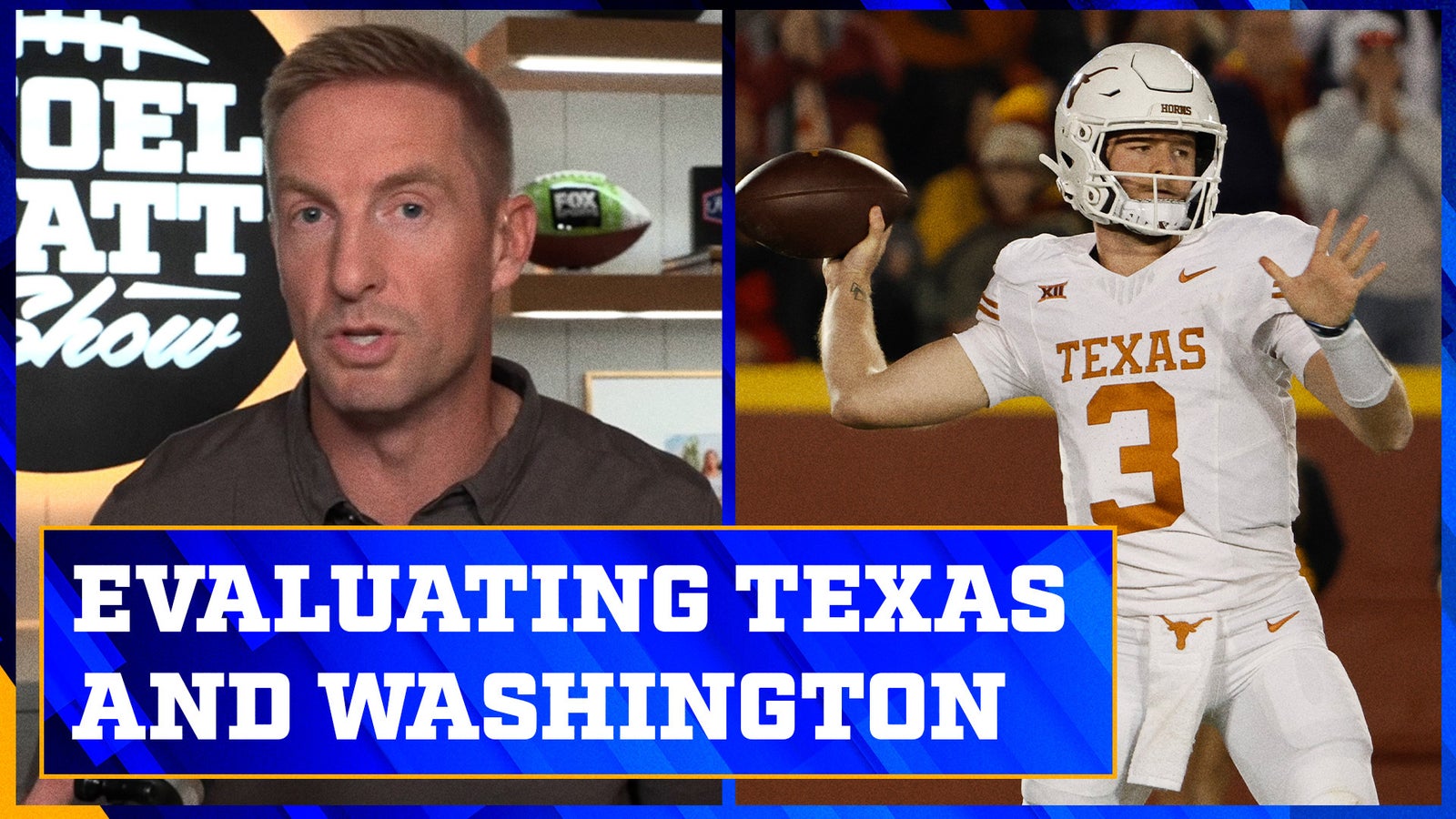 SCENARIO: THE COMMITTEE'S WORST NIGHTMARE
What needs to happen in The Game: Michigan beats Ohio State in a close nail-biter.
What else must happen: Alabama tops Georgia, Oregon beats Washington, Florida State wins out and Texas wins the Big 12 in a close game to finish with just one loss.
Projected CFP: *Man shrugging emoji*
In this scenario, the only undefeated power conference champions would be Michigan and Florida State. The aforementioned NCAA issues with the Wolverines aside, they would likely end up as the top seed. It would be a little more difficult to determine where the Seminoles would go, however, given that they wouldn't have their starting quarterback, plus would have just two top-25 wins (LSU and Louisville) — neither of whom may be in the top 15 come Selection Sunday.
The committee may not like it, but those two are probably in the top four with some wiggle room to maneuver FSU around in terms of seeding.
Then things get difficult, as you would potentially have five one-loss teams fighting for two spots. The Tide would be SEC champs over the Bulldogs, but they did lose to the Longhorns this season. Texas would claim that if you're going to put Alabama in, the committee should respect the head-to-head win and make sure they're in too (even if UT hasn't played like a top-four team since). Meanwhile, Oregon and Washington would be clamoring for inclusion as well given how many quality wins they have on their cards.
Florida State's Jordan Travis suffers serious leg injury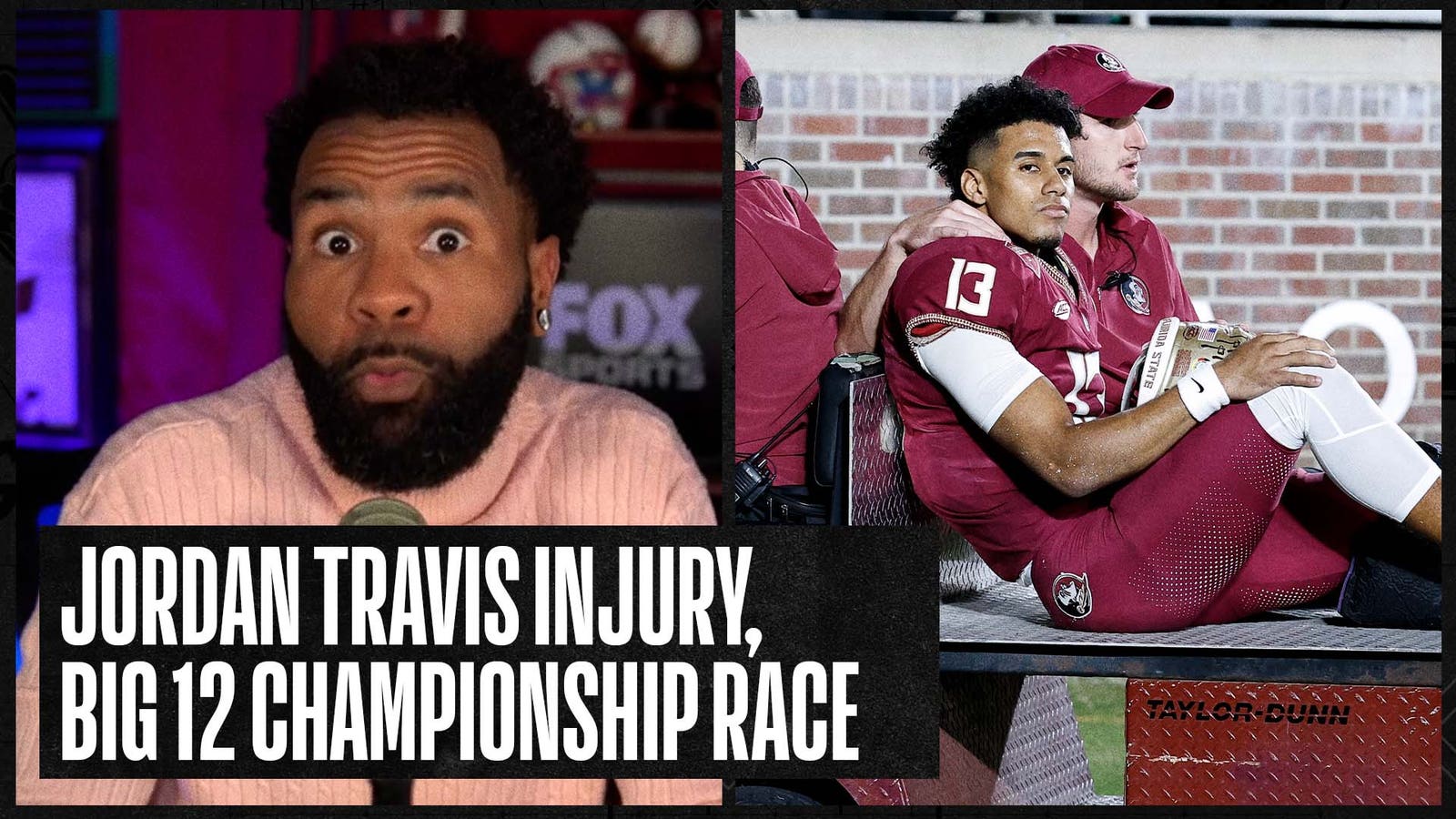 And that's to say nothing of the reigning champions with a pair of impressive top-15 victories to their credit and only a neutral site loss to their name.
We haven't really had a ton of controversial decisions in the College Football Playoff era, but this final one of the four-team phase certainly could wind up being the most talked about one should this transpire on the field and in the committee room the next few weeks.
Step one in such chaos comes this Saturday, however, as the action at the Big House will go a long way in determining whether the committee's task in Dallas next weekend is an easy one or a hard one.
Bryan Fischer is a college football writer for FOX Sports. He has been covering college athletics for nearly two decades at outlets such as NBC Sports, CBS Sports, Yahoo! Sports and NFL.com among others. Follow him on Twitter at @BryanDFischer.
---
COLLEGE FOOTBALL trending
---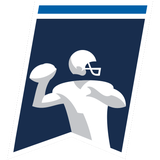 Get more from College Football Follow your favorites to get information about games, news and more
---