Laken Litman
College Football & Soccer Analyst
Before Twila Kilgore ever knew she would be a coach for the U.S. women's national team, she studied Emma Hayes.
It was 2021 and Kilgore was working on her professional coaching license. As part of the program, she had to study a coach for the year. She chose Hayes, who at that point had already won plenty of hardware in nearly a decade managing Chelsea.
"So I'm very familiar with her body of work, who she is as a person," Kilgore said this week after the latest USWNT camp roster was released. 
"I'm really excited to work with Emma and so far, collaboration has been excellent," Kilgore said. "She's open and honest and obviously an excellent tactician. … I think we're going to be a great team moving forward."
Hayes was announced as the next USWNT head coach last week. However, she won't officially be able to join the team until May because she is contractually obligated to keep her current role as Chelsea's manager through the 2023-24 Women's Super League season. In the meantime, U.S. Soccer sporting director Matt Crocker has asked Kilgore to continue filling in as interim head coach and run the day-to-day operation. She will later join Hayes' staff full-time as an assistant coach.
While the situation may be a bit unorthodox and not ideal, Crocker explained why he is "really, really confident" that this is the right plan for the squad moving forward.
"From my perspective, what was important is that we got the best candidate for the long term rather than the wrong candidate for the short term," Crocker said.
Crocker said Hayes stood out during U.S. Soccer's lengthy hiring process in five key areas: leadership, experience, playing style, being a "serial winner" as well as a "legacy coach." He described her as having a "tremendous, strong personality, she's really charismatic … She's really honest and deliberate in the way she communicates, but she's also really supportive of players and staff. And then finally, the clarity of her communication skills were something that really stood out."
Chelsea manager Emma Hayes to coach USWNT | SOTU
After the USWNT's historically early exit from the World Cup, Crocker conducted a post-tournament analysis (as U.S. Soccer does after every major tournament) and met with current players in the national team pool to find out what they were looking for in their next boss. The overall consensus was that they preferred a leader who was keen on developing relationships, building trust, communicating and making bold in-game decisions.
In choosing Hayes, it's clear that Crocker took those requests into account. Because of her experience coaching in the U.S. — her career started stateside — she has a unique understanding of the ecosystem, what needs to change and how to do it. 
"It's the result she looks out for outside of Chelsea," Crocker said of Hayes' interest in the USWNT. "So from that perspective, we're really lucky that she's got that knowledge already."
After the USWNT was eliminated by Sweden in the round of 16, Hayes wrote an op-ed in The Telegraph highlighting systemic development problems that left the Americans "massively short of creative talent."
Crocker addressed that, explaining that he, Hayes and Kilgore have discussed ideas and are aligned on how to attack that issue, which was glaringly apparent over the summer in Australia and New Zealand.
"The creativity and the perceived lack of being able to break down a low block or be really creative in that final third when spaces are tight is something this team is going to need to develop to get back to the world's No. 1 [ranking]," Crocker said. 
"I think with good coaching, the right tactics to evolve this team — in particular with in-possession style and also making sure the players that come in feel like they've got the freedom to create and be themselves — is going to be critically important. We want the team to be bold and brave going forward and dynamic. But we also want to become a very possession-based team and we feel like this team can evolve into that with the skills of both Emma and Twila."
So how will this actually work with Hayes only having two months with the team before the 2024 Paris Olympics begin next July? Beginning with this December camp, Kilgore will work closely with Hayes to start implementing changes on and off the pitch. Because of Hayes' commitment to Chelsea, Kilgore knows she must be conscious and aware of that schedule. But Kilgore said she has "the ability to reach out to [Hayes] anytime, she will make time for me at any point and vice versa. We are very collaborative, we're sharing information, knowledge sharing."
The coaches will choose rosters for training camps together over the next six months, and Kilgore said she plans to travel to London at some point so they can meet in person. 
Time will tell how this actually all shakes out, but Crocker is determined that it will be worth it.
"Things are off to a great start and we plan to do this together to the very best of our ability," Kilgore said. "Emma's time is very limited and I need to tap into that when it's most appropriate and allow her to focus on what she's doing and me to focus on what I'm doing and make sure that we're set for it all to come together in the end."
Laken Litman covers college football, college basketball and soccer for FOX Sports. She previously wrote for Sports Illustrated, USA Today and The Indianapolis Star. She is the author of "Strong Like a Woman," published in spring 2022 to mark the 50th anniversary of Title IX. Follow her on Twitter @LakenLitman.
FOLLOW
Follow your favorites to personalize your FOX Sports experience
---
FRIENDLIES WOMEN trending
---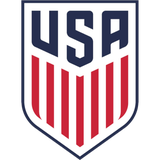 Get more from USWNT Friendlies Follow your favorites to get information about games, news and more
---