What have we learned thus far in Week 11? FOX Sports' staff of NFL writers joined forces to deliver insight and analysis from around the league. 
In this weekly story, we'll tell you what we noticed, what we heard and what to keep an eye on next.
1. Micah Parsons is right back in the Defensive Player of the Year race
When Micah Parsons was runner-up for the NFL's Defensive Player of the Year award in each of his first two seasons, it seemed pretty clear why T.J. Watt won the award in 2021 (22.5 sacks) and why Nick Bosa won it last year (18.5 sacks).
Voters dig sacks. And Parsons didn't have enough.
This year, though, the voters may not be able to use that as an excuse. Because with 2.5 sacks in the Cowboys' 33-10 win in Carolina on Sunday, the 24-year-old Parsons now has 10 on the season with seven games still to go.
"It just shows that they have to account for me," he said of his impact Sunday. "With me moving around and doing the things that I do, it draws more attention. There were a lot more double teams, chips and things like that. Just being impactful, that's when everyone else eats."
Parsons certainly has been impactful all season, and the sack numbers show at least part of that. He's right on the heels of Cleveland's Myles Garrett, who had two more sacks on Sunday to bring his league-leading total to 13, and bunched up with a large group of others that include Pittsburgh's Watt (11.5), Minnesota's Danielle Hunter (11) and Las Vegas' Maxx Crosby (11.5). Parsons leads the league in ESPN's pass-rush win rate metric — while being double-teamed on 29% of snaps, second-highest in the NFL.
Dak Prescott, Cowboys dominate Bryce Young, Panthers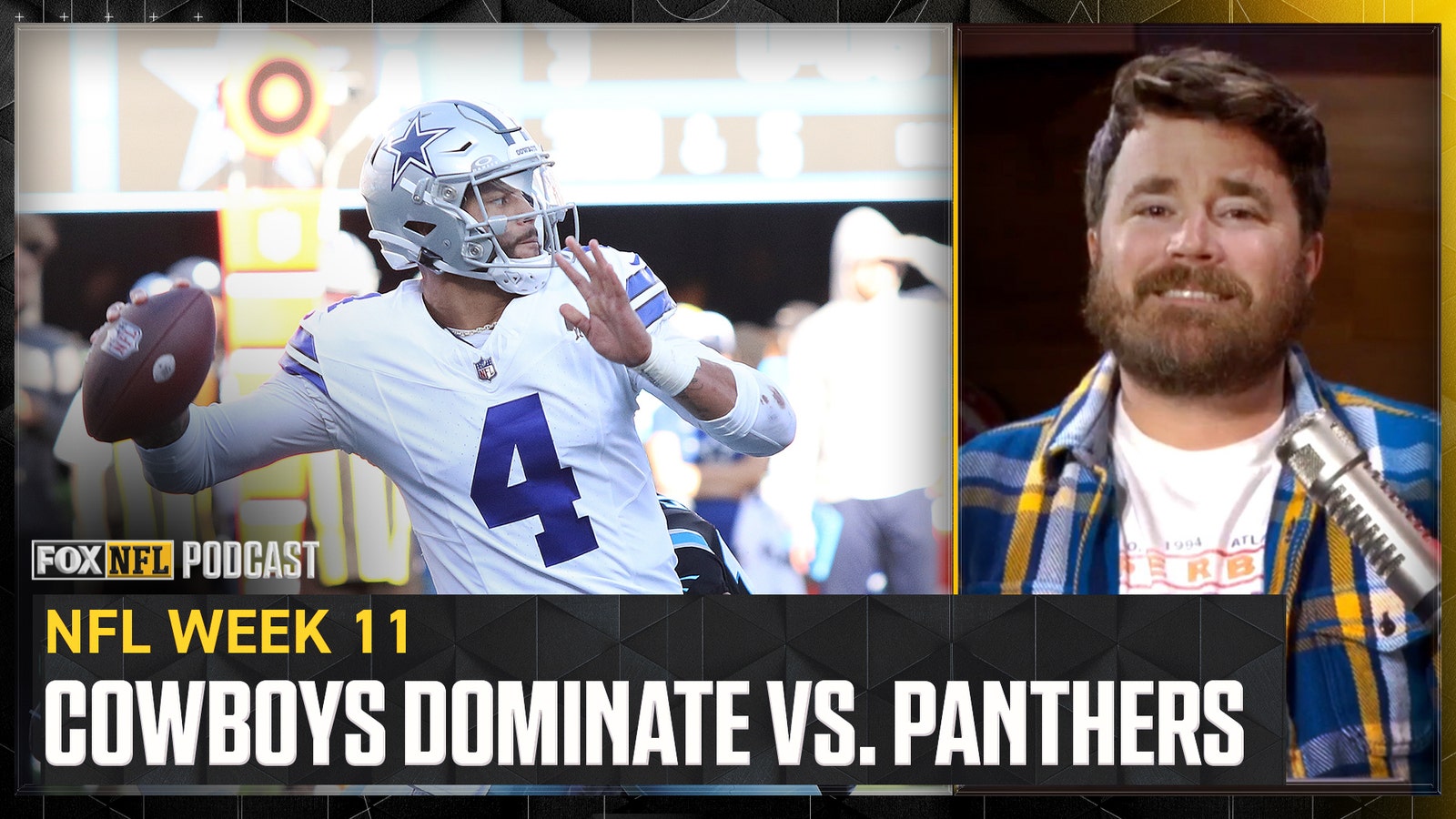 What he did on Sunday might have been even more impressive considering he did it despite a bad reaction to an energy drink. He said he tried one he'd never had before, and "by the fifth play, it felt like my heart was about to jump out of my chest. I felt like I was about to explode. Eventually, I just started throwing up. It was all coming out.
"I'm never doing that again."
Despite that, Parsons is playing as well as any of the other sack leaders, and he is the clear leader of a defense that ranked third in the NFL heading into the game in Carolina. Everyone knows he's an impact pass-rusher, a dangerous run-stopper and draws more attention from opposing offenses than almost any other player in the game. He's a two-time All-Pro, was the NFL's Defensive Rookie of the Year two seasons ago and even got MVP votes last season.
So he's clearly on DPOY voters' radar. They just need that big sack number to help them justify their vote. And with six sacks in his past five games and a double-digit total for the third straight season, he's giving the voters what they want. —Ralph Vacchiano
2. Joe Burrow's injury may end Bengals' playoff hopes
We have seen unheralded backup quarterbacks pull off wins across the NFL this season, but it's hard to imagine that happening for the Cincinnati Bengals (5-5) without Joe Burrow the rest of the way.
That isn't solely a knock on Jake Browning, who got his first extended NFL action at age 27 on Thursday night, even throwing a touchdown pass in the loss to the Ravens. It's a concession that the Bengals have a doozy of a remaining schedule, with all seven games against teams with .500 records or better: Steelers (6-4) twice, Jaguars (7-3), Colts (5-5), VIkings (6-5), Chiefs (7-2) and Browns (7-3). Cincinnati likely needs at least four wins from those games to stay in the wild-card mix with what would be a 9-8 record.
Only two weeks ago, the talk was about how the AFC North might be the first NFL division to send all four teams to the postseason. Season-ending injuries to Burrow (wrist) and Cleveland's Deshaun Watson (shoulder) make that unlikely. The Bengals are only a half-game behind the Texans for the AFC's final wild card, but it's hard not to pick the team with a surging starting quarterback.
Burrow had become that again before Thursday, with 12 touchdowns against four interceptions in a five-game stretch that started with four wins, turning the Bengals from 1-3 disappointments to 5-3 before a close loss to those Texans. Browning still has Ja'Marr Chase to throw to — he's back healthy and on course for another 1,400-yard, 10-touchdown season, as well as a career-best 120 catches.
What does Joe Burrow's season-ending injury mean for Bengals?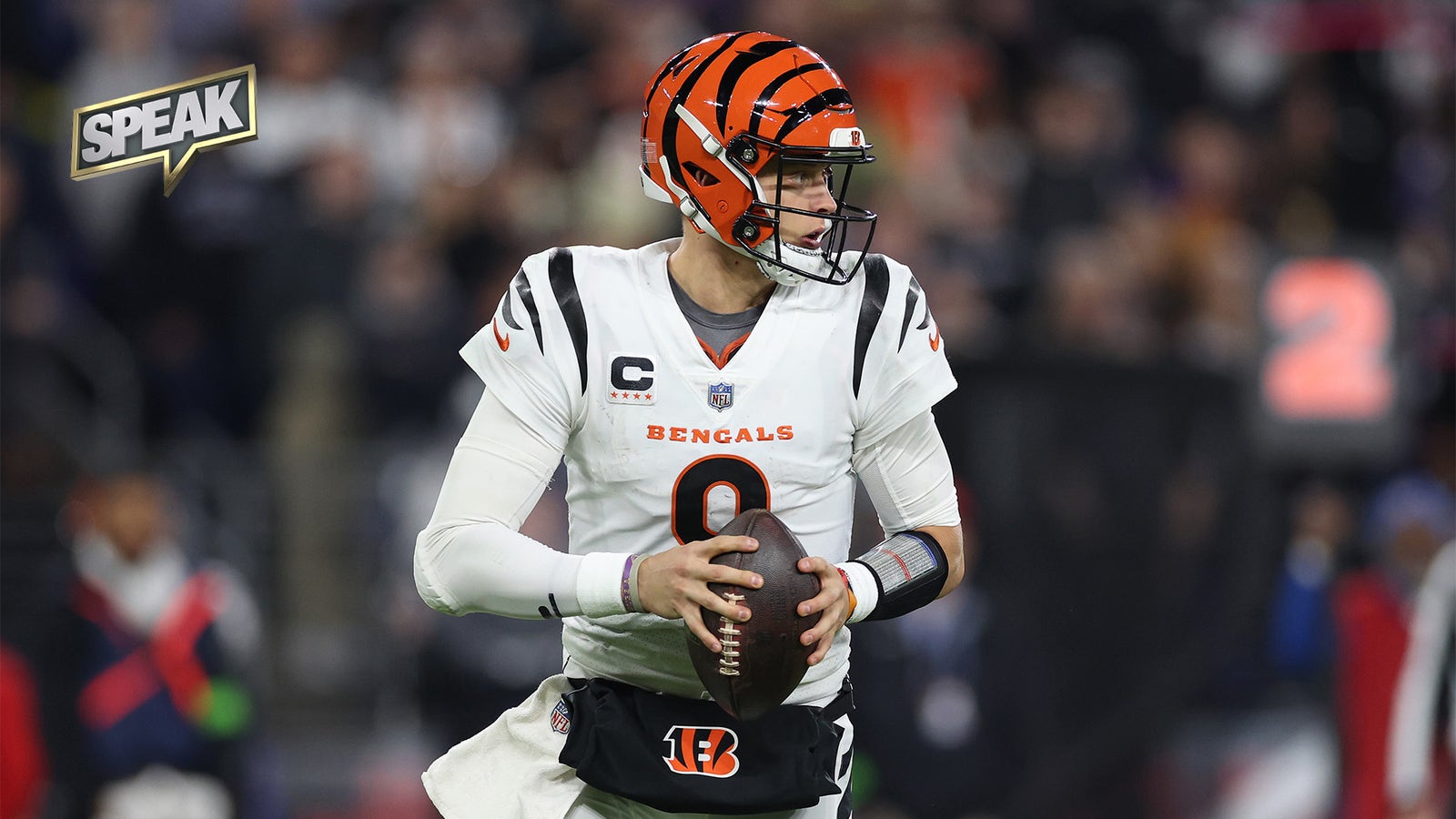 Nearly half the AFC teams have lost starting quarterbacks to long-term or season-ending injuries, so there's a limping-to-the-finish-line feel to the final two months of the season. Lou Anarumo's defense — which has given up 30-plus points in two straight games after not doing that once in the first eight games — will face some of those backups, in the Colts' Gardner Minshew, the Vikings' Josh Dobbs and whoever is left standing for the Browns in Week 18, likely rookie Dorian Thompson-Robinson. Cincinnati has two games against the Steelers' Kenny Pickett, who has as many touchdowns (6) in 10 games as new NFL starters Will Levis (Titans) and Tommy DeVito (Giants) have in four games each.
Perhaps Browning and the Bengals can stay in the hunt, but they'll have to overcome more to stay in the race. Four of Cincinnati's five wins are in a sweep of the NFC West, but that won't help them in tiebreakers, where conference record is right after head-to-head matchups. 
It's easy to think that the Bengals' window for winning a championship (after two great seasons falling just short of that) is narrowing fast. The cap hit on Burrow's mega-contract goes up from $19.5 million this year to $29.7 million next year and north of $46 million per year from 2025 on, so it will be increasingly harder to surround him with the kind of talent he's had in the past three seasons. For now, they're left to an unknown leading them into a battle of backup quarterbacks, but the road might not get much easier after that. —Greg Auman
3. Riverboat Ron is on the last leg of his Commanders voyage
When Josh Harris finally bought the Washington Commanders in late July, it was too late to make any sweeping changes. That bought Ron Rivera a little time to prove that he deserved to keep his job as their head coach.
But after an ugly, sloppy, inexcusable 31-19 loss to a terrible New York Giants team at home on Sunday, it sure feels like his time has run out.
"It is a low point," Rivera said. "That's for sure."
So low that the firing of Rivera is probably now more a matter of when, not if, after his team lost for the seventh time in its past nine games. This one was the worst. The Giants had lost seven of eight and were playing with their third-string quarterback. The Commanders had no business losing this game.
They did it by turning the ball over six times on offense, while their defense was shredded by Giants rookie QB Tommy DeVito (246 passing yards and three touchdowns) despite sacking him nine times. The Commanders are now 4-7 on the season and have a better shot at a top-five pick in the 2024 draft than they do at making the playoffs.
And NFL people are already speculating that if — or perhaps when — the Commanders lose in Dallas on Thanksgiving, Harris will fire Rivera and let offensive coordinator Eric Bieniemy run the team for the rest of the year.
It's only speculation, of course. Harris hasn't said much about his intentions since buying the franchise for $6.05 billion. But it seems clear now where this is all headed. Rivera's best hope for keeping his job was either with wins or obvious progress. Instead, he was stuck answering questions about why his team was still this bad in the middle of his fourth year.
"If I answer a question like that, I'm making an excuse, OK?" Rivera said. "It'll get out there. I don't need to deal with it. We're just going to continue to do the best we can. We're going to work our asses off, we're going to show up tomorrow [and] we'll see what happens."
That's all Rivera can do, because at this point there's no guarantee Rivera will get many more tomorrows. In Washington, he almost certainly won't. —Vacchiano
Tommy DeVito leads Giants to a stunning win against Commanders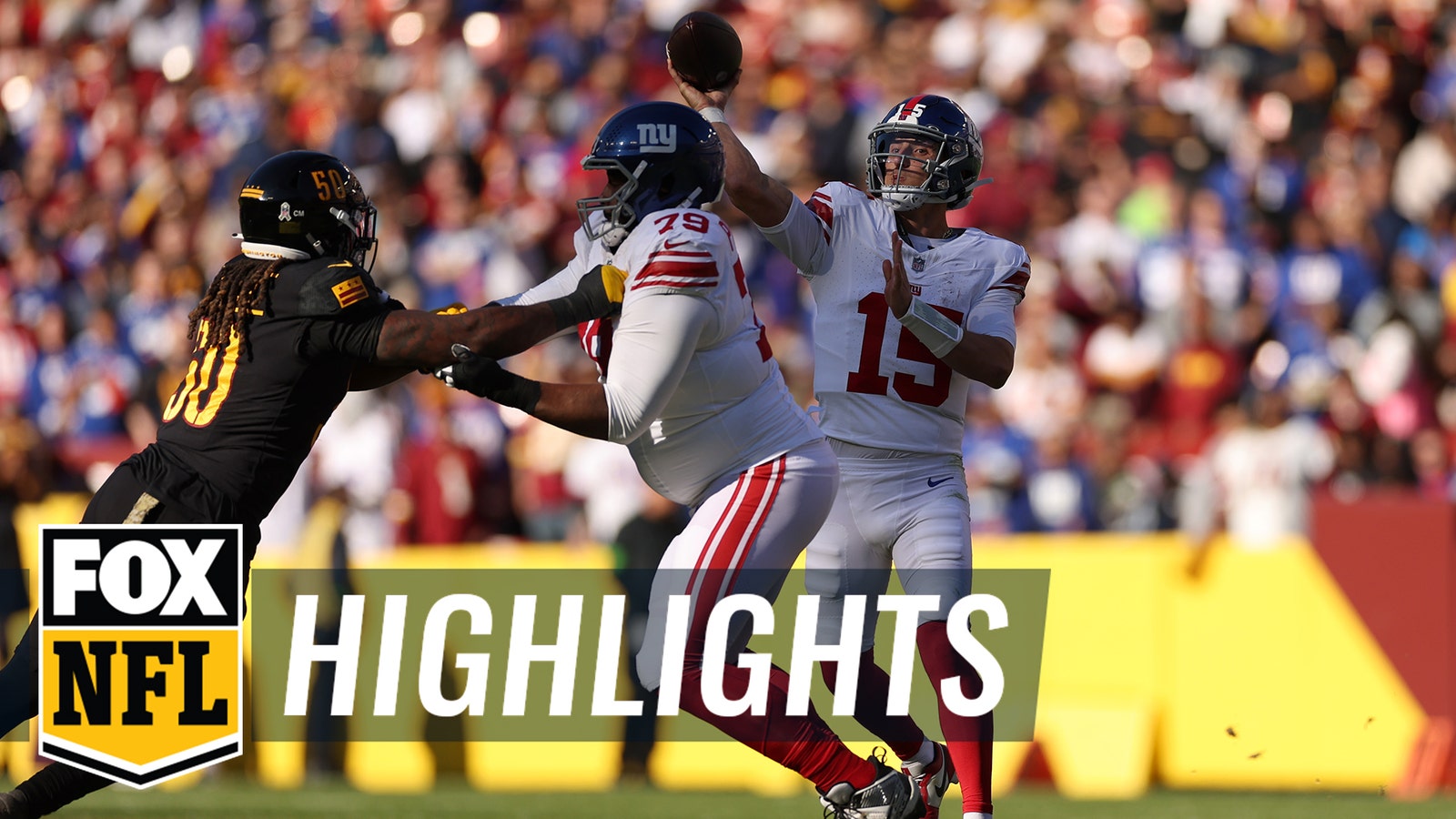 4. Brandon Staley might be headed for an exit as well
Chargers head coach Brandon Staley became combative in a postgame exchange with a reporter who questioned if he will continue to call the defense after L.A.'s 23-20 loss on the road to the Green Bay Packers.
Staley, whose team has dropped two games in a row and four of its past six games, said he has full confidence in the way his defense plays — with him calling the plays.
"You can stop asking that question," Staley told the reporter. "I'm going to be calling the defense. So we're clear. So you don't have to ask that again."
However, the Chargers appear headed for another lost season. And Staley's expertise, the defense, is consistently failing his team. On Sunday, Jordan Love finished 27-of-40 for 322 yards and two touchdowns for a 108.0 passer rating. Love hadn't thrown for 300 yards all season.
The Bolts wasted another strong performance from franchise quarterback Justin Herbert, who finished 21-of-36 for 260 yards with two touchdown passes and no interceptions. Herbert also ran for a game-high 73 yards.
Rookie receiver Quentin Johnston dropped a wide-open pass on a deep ball down the sideline on the final drive of the game that would have gone for a touchdown, or at least put the Chargers in field-goal position to tie the game.
The Bolts also may have lost one of their best defensive players for the year, with edge rusher Joey Bosa suffering a foot injury that could force him out for significant time. A distraught Bosa was emotional, covering his face with a towel as he left the sidelines on a cart during the game.
In his third season, Staley is now 23-22 (including postseason) with the Chargers. He has seven games left to turn things around, but it's fair to wonder if the locker room still believes in him.
It may be time for the Bolts to turn to offensive coordinator Kellen Moore for a seven-game audition, like what the team's AFC West rival Las Vegas Raiders are doing with interim head coach Antonio Pierce.
Whatever Chargers owner Dean Spanos decides, the franchise needs to create some long-term stability at the head-coaching position. Moving on from Staley would mean the organization will have changed coaches four times in the past decade. 
Andy Reid has been the only coach for the Kansas City Chiefs during that time, and they've won seven AFC West titles and two Super Bowls. The Chargers last won the AFC West in 2009. They sought an interview with Reid after the Eagles fired him, but they never got the opportunity as Chiefs owner Clark Hunt sealed the deal first.
Four years later, the Chargers passed on Patrick Mahomes and selected Mike Williams in the first round of the 2017 draft. Williams has been an above-average player and has 4,806 career receiving yards, but he's obviously not Mahomes — and Williams is out for the season with a torn ACL.
The road doesn't get any easier for Staley's Chargers, who host Lamar Jackson and the 8-2 Baltimore Ravens this weekend. —Eric D. Williams
Jordan Love throws for a career-high 322 yards with two TDs to help Packers defeat Chargers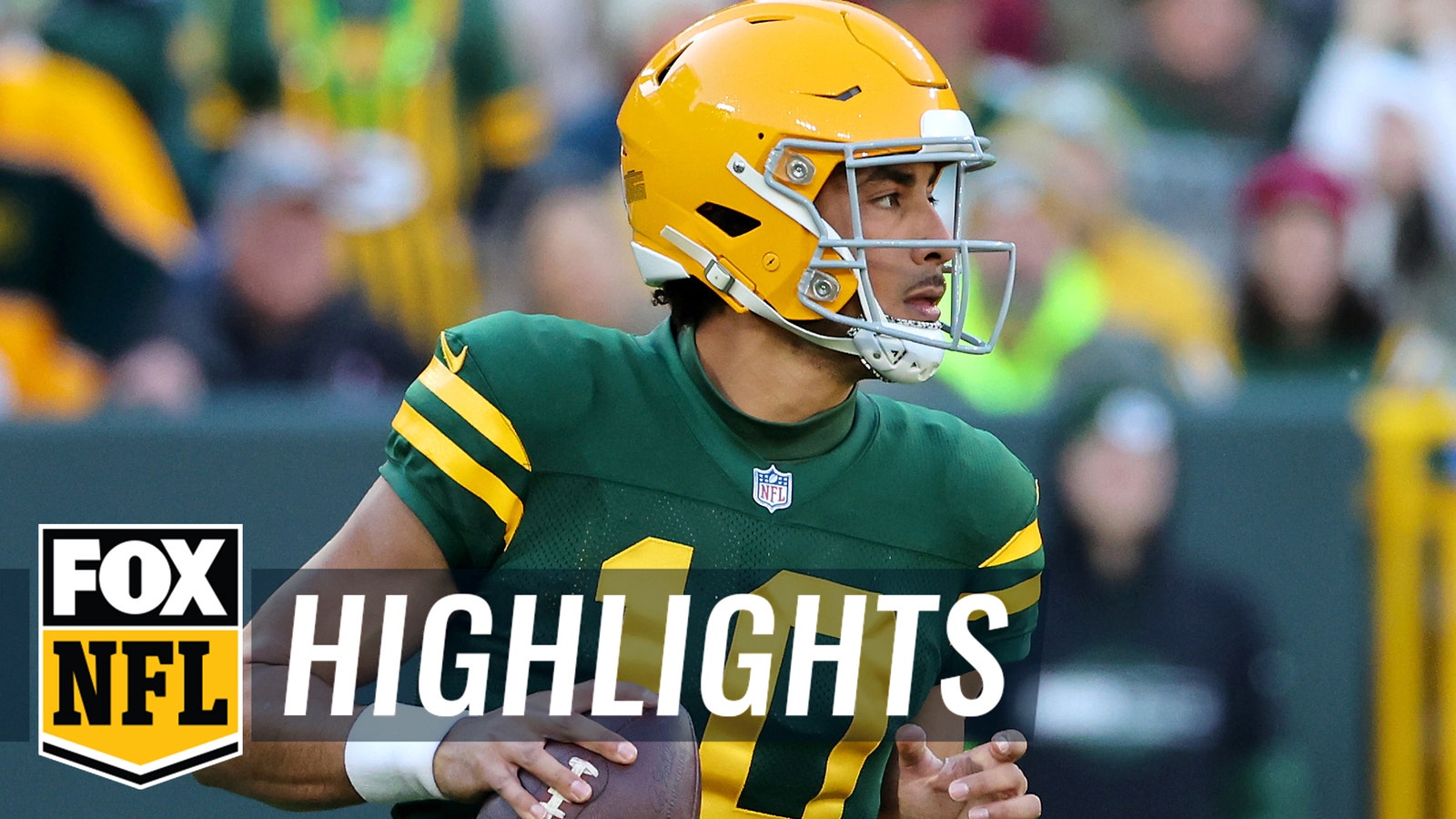 5. Jordan Love is getting better, and so are his young receivers
Before the season, it looked like Packers quarterback Jordan Love was being set up for success by Green Bay. He was on track to have an excellent offensive line, a reliable backfield and a defense with eight first-round picks among its starters. Sure, he had young receivers and tight ends, but he was going to be able to lean on the rest of the team while he developed.
It hasn't worked out that way. Left tackle David Bakhtiari is out for the season and the Packers are still trying to figure out how to make up for his absence. Running back Aaron Jones hasn't been consistently available and was injured again in Sunday's 23-20 win over the Los Angeles Chargers. The defense still has many of the same issues it did last year.
It's been up to Love and first and second-year players to carry the team for much of the year. In a shocker to no one, that hasn't gone terribly well. But as rookies like Jayden Reed and Dontayvion Wicks are getting more comfortable at the pro level, so is Love. Head coach Matt LaFleur has started getting creative with Reed, who not only caught four passes for 46 yards against LA, but rushed three times for the same amount and added a rushing touchdown on a 32-yard end-around. 
Wicks was the team's leading receiver with three catches for 91 yards. Second-year players Romeo Doubs and Christian Watson both had receiving touchdowns. Both rookie tight ends contributed to the passing game and Tucker Kraft would have reached the end zone himself if it weren't for his "big, clumsy Kraft feet."
Lo and behold, it led to Love's first 300-yard game in the NFL. He finished the day 27-of-40 for 322 yards and two touchdowns with a passer rating of 108.5. Love also led a six-play, 75-yard game-winning drive capped off with a 24-yard touchdown pass to Romeo Doubs with two and a half minutes to play.
The defense then stepped up and prevented the Chargers from getting into field goal range and the game ended in a Packers win at home.
No first-year starter can do it on his own. Thanks to the development of the young players around him, Love looks like he no longer has to. —Carmen Vitali
6. Brock Purdy's cold streak is officially over
The second-year pro out of Iowa State has been sizzling since the San Francisco 49ers' Week 9 bye. In a 27-14 victory over the Tampa Bay Buccaneers on Sunday, Purdy finished 21-of-25 for 333 passing yards, with three touchdowns and no interceptions for a perfect 158.3 passer rating.
Purdy became the first San Francisco quarterback with a perfect passer rating in a game since Joe Montana in 1989. Purdy, 23, also joined Lamar Jackson and Jared Goff as the only players in NFL history under the age of 24 to achieve a perfect passer rating.
"What an honor," Purdy told reporters after the game. "At the same time, I feel like there's still some plays and stuff that I wish I had back, so I'm not completely content with just that. But I thought it was a great game with the guys around me, the coaching and the playcalling. All of it. So that's a testament to the team, really." 
Brandon Aiyuk was Purdy's top target, finishing with five catches for 156 receiving yards on six targets, including a 76-yard touchdown.
During San Francisco's three-game losing streak, Purdy was responsible for six turnovers, including four in the fourth quarter. But over the past two games, Purdy has completed 78.4% of his passes for 627 yards, with six touchdowns and no interceptions for a 157.3 passer rating.
Those aren't the numbers of a game manager.
"Brock's been great because he has been consistent through it all," San Francisco head coach Kyle Shanahan told reporters after Sunday's game. "I mean, we never felt anything different with Brock during those three losses. I think he's pretty realistic, so he doesn't get into stuff that's not that accurate." —Williams
Brock Purdy, 49ers shut down Baker Mayfield, Bucs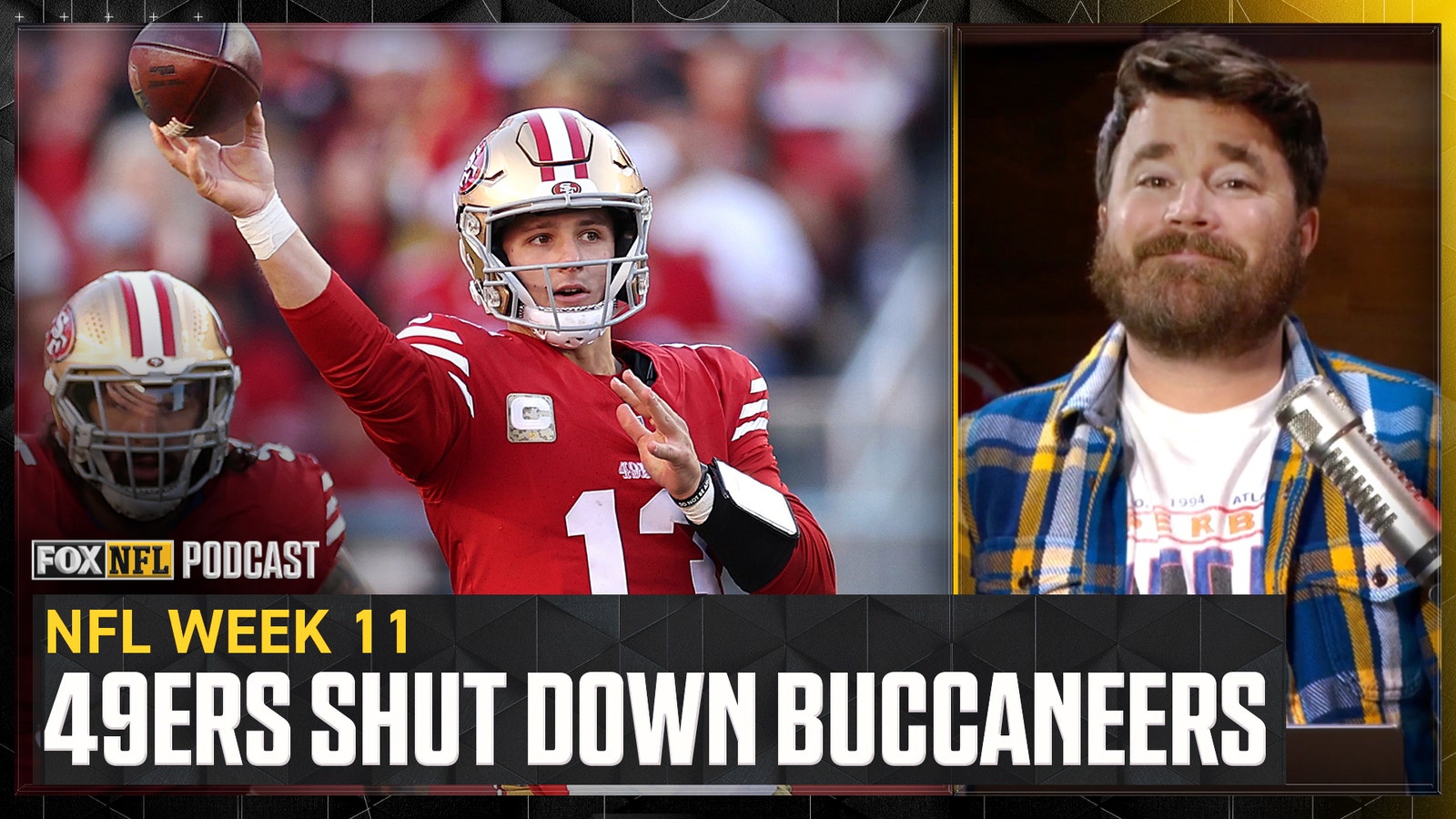 7. Tyreek Hill's sustained dominance deserves greater appreciation
The NFL's MVP award is ostensibly a quarterback honor, but in the absence of a slam-dunk frontrunner, you can make a real case for Dolphins receiver Tyreek Hill, who continues to dominate his position at a historic level in 2023.
Sunday's Miami win over the Raiders was just a 20-13 score, with no points in the fourth quarter, and the Dolphins got much of what they managed offensively from Hill. He had a 38-yard touchdown on the way to 10 catches (on 11 targets) for 146 yards, very much another day at the office for him. His 25-yard catch set up the game's final points on a field goal late in the third quarter, extending Miami's lead to a touchdown.
Hill's consistent prolific play has perhaps numbed us to how good he's been — to average over 13 yards yards on more than 10 targets isn't easy, but he's done it four times this season, and nobody else in the NFL has done it more than once. He averaged 13.3 yards per target Sunday, and that's only his fifth-best average in a game this year.
He's now at 79 catches for 1,222 yards and nine touchdowns. The big splash would be for him to become the first player in NFL history to top 2,000 receiving yards, and he's on course for 2,077, which would break Calvin Johnson's league record of 1,964, set in 2012. He's also on pace for 134 catches (fifth-best all time) and matching his career high with 15 touchdowns.
Hill's impact can't just be in gaudy video-game statistics, however. He needs to help lead the Dolphins on an extended postseason run to truly be the superstar player he's paid to be. Miami's postseason ended early last year with a backup quarterback in the wild-card round, but if Tua Tagovailoa stays healthy, he'll have the best offensive weapon in the league at his disposal come January. —Auman
8. Is Mike Vrabel on the hot seat?
In the court of public opinion, the heat is ramping up on Mike Vrabel.
The Titans coach was asked about his job security for the first time this season following Tennessee's 34-14 loss at Jacksonville on Sunday. It dropped the team to 3-7 on the year. The Titans have lost five of their past six games and have yet to win on the road this season. 
The past season and a half has been the toughest stretch of Vrabel's tenure with the Titans, which began in 2018. Since beginning last season 7-3, Tennessee is 3-14 in its past 17 games. 
"I don't try to concern myself with that," Vrabel said of his job security. "I really am focused on these players. I hurt for them. I played [in the NFL] for 14 years — won some games, won some championships. I am frustrated for the players. I'm disappointed for the players. I want them to have success. I know how hard they work and what they put into it. That's what my focus is. My focus is on coaching this team."
Personnel issues have played a key role in the Titans' unraveling, which led to the firing of general manager Jon Robinson last December. The trade of A.J. Brown in spring 2022 is the move that has hurt the most — his replacement, Treylon Burks, hasn't lived up to expectations and has missed 11 of 27 possible games since being drafted in the first round in 2022 — but the overall lack of quality starters and depth drafted between 2020 and 2022 is jarring. Most notably, it has manifested in the Titans' issues (to varying degrees) at offensive tackle, cornerback, receiver and inside linebacker. 
The lack of talent on the roster could be what ultimately gives Vrabel another year, despite the team's lack of improvement this season. Plus, he's just two seasons removed from winning 2021 AP Coach of the Year after leading the Titans to a 12-5 record and the AFC's No. 1 overall seed. Tennessee that season broke the record for most players used in a non-strike season (91) due to injuries. 
The Titans currently lead the NFL with $100.5 million in 2024 cap space and have seven picks in the upcoming draft. As of Monday, Tennessee's top pick is slated to be No. 6 overall, according to Tankathon. That may lead team ownership to give Vrabel a chance to right the ship. —Ben Arthur 
9. Lions overcome absurdity, prove they can win under any circumstance 
"It's a hell of a job by the guys hanging in there, you know?" head coach Dan Campbell said after a comeback win over the Bears.
I'll say it: the Lions were outplayed by Chicago for 55 minutes on Sunday. They turned the ball over four times, including three interceptions by quarterback Jared Goff after coming into the game with just five on the season. Chicago had the ball for over 40 minutes. With four minutes to play, Detroit was down by 12 points. If you switched your TV off as a Lions fan, no one would blame you.
But after struggling all game, Goff kept his cool and executed multiple two-minute drills to perfection. The Lions scored 15 points in three and a half minutes. Goff was surgical, leading drives of six and 11 plays, plus a two-point conversion that put the Lions up 29-26 with 29 seconds to play.
"At the end of the game down two scores, that's when he's at his best — in a game that he's not playing his best game – I think that speaks volumes," said Campbell of Goff.
Jared Goff, Lions pull off epic comeback vs. Justin Fields, Bears
That's what good teams do; It's what good quarterbacks do. They find ways to win. And Detroit did a lot of things right. They converted eight of 11 third-down attempts. Running backs Jahmyr Gibbs and David Montgomery again worked in tandem to give the Lions a well-balanced offensive attack, save for the turnovers. Wide receiver Amon-Ra St. Brown did all of the wonderful things he usually does, like catch eight passes for 77 yards and a touchdown. He even took an inside pitch. 
The Lions have been able to do that all season. No one is going to remember the games they almost lost. It doesn't work like that. They'll just remember that Detroit won eight of their first 10 games in a season for the first time since 1962. —Vitali
10. Keep Kyler Murray and rebuild the squad
If I were asked to advise Monti Ossenfort and Jonathan Gannon on bringing the Cardinals back to respectability, I would tell them to keep No. 1 and build the rest of the roster around his talents. While the draft fanatic in me would love to see how a quarterback prospect like Caleb Williams or Drake Maye would perform in the desert, Murray's solid performance in back-to-back weeks suggests the former top overall pick could regain his Pro Bowl form in 2024 with more reps and experience within the offensive system. 
Watching Murray tease the football with his unique talents as a dual-threat playmaker makes it easy to envision the Cardinals quarterback flourishing with an upgraded supporting cast around him on the front and perimeter. With a beefy offensive line that can move defenders off the ball, the Cardinals could utilize a more balanced attack that would enable Murray to attack defense off bootlegs and traditional play-action passes. 
In addition to the frontline upgrades, the Cardinals could add a dominant pass catcher to the mix (SEE: Marvin Harrison, Jr.) to anchor the passing game like former All-Pro Larry Fitzgerald held it down as the team's No. 1 receiver throughout his illustrious career. Given the opportunity to parlay a top pick into multiple blue-chip players via a pre-draft trade, the Cardinals should find a way to keep Murray around and utilize their resources to enhance a surprisingly competitive roster. —Bucky Brooks
This story was compiled by:
AFC South reporter Ben Arthur (@benyarthur)
NFC South reporter Greg Auman (@gregauman)
NFL analyst Bucky Brooks (@BuckyBrooks)
NFC West reporter Eric D. Williams (@eric_d_williams)
NFC East reporter Ralph Vacchiano (@RalphVacchiano)
NFC North reporter Carmen Vitali (@CarmieV)
---
NFL trending



NFL Week 11 highlights: Cowboys, Broncos, Packers, Lions, Giants win


Jimmy Johnson will be inducted into Cowboys' Ring of Honor, Jerry Jones announces on FOX


NFL Week 11 top viral moments: Lions' thrilling win, Jimmy Johnson, C.J. Stroud, more





Denver Broncos vs. Minnesota Vikings: Prediction, odds, picks


2023 NFL Thanksgiving Games: Schedule, teams, how to watch


Kansas City Chiefs vs. Philadelphia Eagles: Prediction, odds, picks





2023-24 NFL playoff picture, bracket, schedule


2023 Top 10 NFL quarterbacks: Ranking the best QBs after Patrick Mahomes

---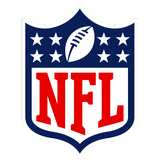 Get more from National Football League Follow your favorites to get information about games, news and more
---